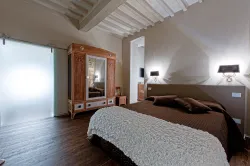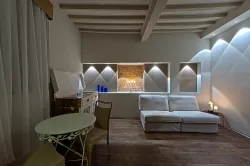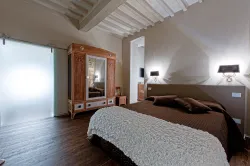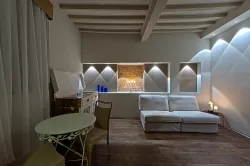 The brown suite "Mora Seduttrice" (brown seductress), has the color analog to the earth. That is why their vibrations are concentrated in material terms of things. She is also the prefered and animated by a type of feeling.
Light brown implies authenticity, while dark brown leads back to wood or leather, vibrating with strength. Massive and reliable is brown. A color, which often happens in nature and sign to that.
The suite carries out a game of playing with the contrasts: the white mixes with the brown, like the other suites with the red, the purple and the green. In a fascinating and engaging way, the colors communicate with the feelings of their guests.
The color brown has a component elegant and seductive: the stay in the Mora is pure seduction, given also by its chromatic details that highlight the ancient, the modern art and the design.